About Heparosan
Heparosan is an endogenous biodegradable polymer synthesized in the human body. This polymer is composed of the repeating monosaccharides N-acetylglucosamine and glucuronic acid. Heparosan is present in up to 30% of the heparan sulfate molecules made by the body. Unlike other glycosaminoglycan polymers, heparosan has no known biological activity of its own, and is degraded by natural processes.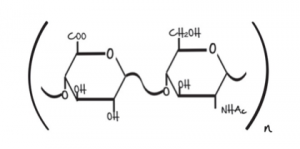 HEPtune Drug Delivery Platform
Caisson's HEPtune polymers are uniform in structure and size, and are produced using a chemoenzymatic process that allows for pharmacokinetic control and drug design customization.
The HEPtune platform is applicable to numerous therapeutic classes including proteins, peptides, aptamers, small molecules, various antibody modalities, and liposomal delivery systems.
HEPtune Advantages
HEPtune is designed to offer increased drug loading and efficacy for antibody drug conjugates, as well as improved half-life, pharmacokinetics, pharmacodynamics, immunoprotection, solubility, stability, and overall patient compliance and safety.
The HEPtune system offers numerous advantages:
Improved drug loading, and increased functionality of ADC linkers
Increased half-lives in the bloodstream
Natural and fully biodegradable polymers
Precisely controlled, consistent molecular weights
Safe absorption, metabolism and excretion
Greater solubility and stability (broad pH range)
Simplified purification of conjugated therapeutics
For more detailed information on the advantages of HEPtune, click HERE