Half-Life Extension
HEPtune has been proven to provide drug conjugate stability in the bloodstream. The natural characteristics of heparosan make it uniquely suited to provide superior flexibility and safety over the competing technologies.  Heparosan's monodispersity and extracellular stability make it second to none. Its biodegradable nature is also one of its key features.
In the FVIIa example below, a 40-kDa molecular weight heparosan provided the most effective half-life (MRT), outperforming PEG by 23%.  The heparosan-FVIIa conjugate retained 78% higher proteolytic activity compared to PEG-FVIIa conjugate.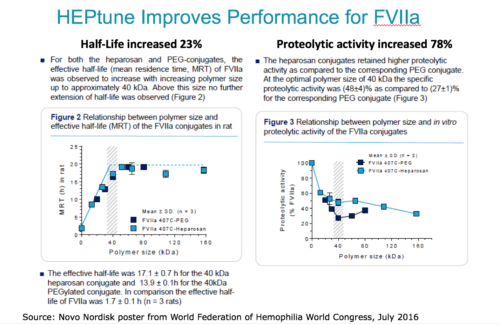 Tuning of molecular weight and conjugation chemistries is recommended for obtaining the ultimate heparosan drug conjugate performance. Caisson's proprietary technology and collaboration model allow custom tailoring of its heparosan polymers to meet the needs and specifications of its partner's drug pipeline.
Enhancing Efficacy of Antibody Drug Conjugates (ADCs)
The intrinsic composition of heparosan allows for amplified drug loading and enhanced therapeutic performance and stability of ADCs.
SITE SPECIFIC MODIFICATION & INCREASED DRUG LOADING WITH HEPAROSAN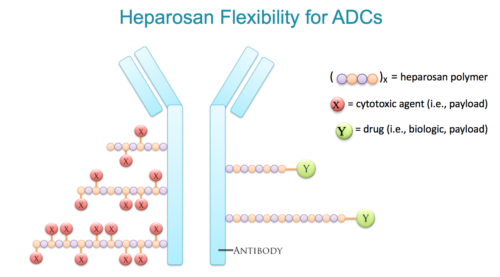 The repetitious N-acetylglucosamine-glucuronic acid disaccharide is amenable for attachment of cytotoxic agents to either the –OH or –COOH groups comprising the heparosan polymer.
Heparosan is a hydrophilic, polyanionic polymer whose negative groups repel each other; this charge state contributes to less clumping and precipitation, and additionally enhance solubility for hydrophobic compounds. High drug to heparosan loading is achievable.
Heparosan can also serve as a linker between two different molecules (e.g., targeting and payload groups).  If needed, heparosan can address both drug loading and linker needs in a single therapeutic.
Decreasing Toxicity Concerns with Naturally Occurring Heparosan Nanocarrier Formulations
The heparosan polymer is an ideal candidate for protection of drug carriers. Heparosan naturally exists in nature and is produced by all animals. Therefore, the body does not recognize heparosan as foreign, and thus it serves as a great molecular camouflage for nanocarrier systems.
Heparosan can contribute both to the surface charge of nanocarriers, as well as the organization of the lipids. The unique charged nature and structure of the heparosan affords this polymer to be an ideal candidate for modification of nanocarriers.  Certain heparosan derivatives may be used in post-formulation modification; the partner's original drug-filled particles may be coated with heparosan in a single easy addition step.
HEPAROSAN MODIFICATION OF NANOCARRIERS

Small molecular weight molecules for oncology, inflammation, or infectious diseases, as well as certain peptide, protein, or nucleic acid formulations may benefit from heparosan nanocarrier modification in the following ways:
The addition of non-immunogenic polymers (

i.e.

heparosan) allows for ongoing treatment to patients without initiating safety and toxicity concerns.

Increasing the molecular weight of therapeutics via a heparosan-modified nanocarrier aids in prevention of rapid renal excretion of <60-70 kDa molecular weight molecules.

The addition of heparosan prevents receptor mediated and cell surface clearance mechanisms, as there are

no

known receptors or cell surface proteins that bind or interact with heparosan.